13th Bank added to Avenue's Net Banking Payment Facility: YES BANK
January 30, 2007 - Mumbai.
2007, promises to be an eventful year for Avenues, as one more Net Banking options opens up.
Adding yet another bank to its already extensive range of payment options, Avenues announced today that it has signed on with 'YES BANK' as their banking partner.
Avenues, South Asia's largest integrated eCommerce Company is the Holding Company for a number of e-Ventures. It aims at providing highly customized and innovative end-to-end ASP hosted solutions for a variety of industry verticals. Its three main offerings are CCAvenue - India's largest neutral online payment gateway, ResAvenue - India's complete reservation engine for the Hospitality Industry and with EventAvenue – the online management solution for the Event Industry.
Since its launch in 2001, Avenues has been constantly developing and enhancing its solutions with different types of value additions. One of the key value additions over the years has been the increase in its banks, and payment options partners. This enables it to widen the paying customer base for banks, hoteliers, and event managers.
YES BANK currently provides extensive services to improve financial and operational efficiency of their clients, and through this mutually beneficial association, YES BANK will gain advanced technological option, and will be able to provide their clients with the right tools-of-technology, required for catering the needs of the Banking and the Financial Services industry.

Mr. Vishwas Patel
, the CEO of Avenues said, "Today, more and more people, and businesses are discovering the astonishing power of the internet. We at Avenues want to ensure that our bankers, hoteliers and event managers, receive the most out of their real time, 24x7 financial services. To further this aim, especially in a Credit Card adverse society like India, you need to have as many net banking options as possible. And since we are constantly working towards this goal, we hope to include many more banks in the near future."
About YES BANK
Incorporated in November 2003, YES BANK was granted license by the Reserve Bank of India (RBI) on March 24, 2004. The financial operations started in September 2004, while the transaction banking business commenced in October 2004. The first branch was set up in Mumbai.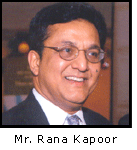 YES BANK is a new age private sector bank, promoted by Rana Kapoor and Ashok Kapur, with the financial support of Rabobank Nederland, the world's only AAA rated Private Bank, and three respected global institutional private equity investors, CVC Citigroup, AIF Capital and ChrysCapital.
According to a recent survey by Business world, YES BANK is India's No.3 Bank amongst the listed banks in India. The same survey also ranked YES BANK No.1 in Safety, Efficiency & Growth.
In addition to its existing 30 branches across the country, YES BANK aims to achieve the target of 100 branches by FY08 and 250 branches by the year 2010. For more information, log on to: www.yesbank.in
About Avenues
Avenues is a profitable, debt-free company and currently services thousands of eMerchants worldwide through its solutions
www.CCAvenue.com
,
www.ResAvenue.com
,
www.EventAvenue.com
,
www.MembersAvenue.com
,
www.TrustAvenue.com
. It is the largest integrated eCommerce solutions provider in South Asia. Avenues has shown revenue growth and profit growth consistently, year on year. Avenues is incorporated in India, and has offices in Singapore, Hong Kong, and USA. The Avenues support and development center is based in Mumbai, India. The total strength of the Avenues team is currently 120 personnel, spanning across all disciplines. For more information, log onto:
www.Avenues.info



















Real Time Payment Processing


Single Window Interface Management


Extensive Distribution Network


Zero Setup Cost


Seamless GDS and IDS connectivity