Financial crisis likely to affect the Hotel Industry
October 25, 2008 - Mumbai.
We have read about the huge financial crisis that recently hit the United States, which caused panic among major financial giants. A lot of us were under the impression that none of that would affect any of the other countries or sectors and it would pass by as easily as it came. But according to Microsoft CEO Steve Balmer- ďNo one is immune from this financial crisisĒ. The crisis is likely to affect both business and consumer spending which will eventually lead to a downturn in the global economy.
The Travel Industry has already faced a double whammy by this economic slowdown in the past few weeks. With the fears of recession in the economy & millions of people having lost money in stock markets across the world, travel and holidays is the last priority on their list. Due to the tremendous hike in the jet fuel prices this year, airfares have increased & the number of people taking domestic flights has fallen by 18.5%. A decline in airline passenger traffic has led to increase cancellations at hotels which have negatively impacted hotel bookings and occupancies. According to a survey, cancellations of existing reservations are running about 50% above normal at hotels. In September, domestic hotel occupancy was down 5% from previous September.
In this weakening economy it is essential for you to take expeditious measures of strategically promoting your hotel to the fullest. With the holiday season round the corner you can make the most out of it and draw as many guests to your hotel as possible. This can be done by looking at alternative plans to encourage bookings to your hotel with the help of Online Marketing.
We all know that in order to get traffic to your site Online Marketing is the way to go. There are several different methods of marketing that can help increase your traffic & income. Many hoteliers are oblivious to the fact that if they want people to visit their website they have to use some sort of online marketing technique to get their hotel noticed.
Here are a few tips by which you can make your hotels grip stronger in this slumping economy.
Search engine optimization (SEO) still remains as one of the best ways to increase sales for your business. SEO is simply the process of improving the volume and quality of traffic to your web site from search engines. The earlier a site is presented in the search results, or the higher it ranks, the more searchers will visit that site. When a guest makes a search in any of the search engines for a good hotel deal he would get a list of hotels to choose from & with the help of search engine optimization you can get your hotel listed in the first few pages of the search engine.
Search engine promotion is further encouraged with the help of Meta tags. Both Meta keywords tag and the Meta description tag contribute to your search engine ranking. A Meta keywords tag is a brief list of the most important themes of your page. When you make a Meta keywords list take into consideration the most important terms you see on the page that most accurately describe the content of the page. Even though it may sound visibly simple, many hotels still donít use it appropriately. Make sure the pages are focused on one or two specific keyword phrases in order to have a chance to get a top ten placement.
On the other hand Meta description tag gives a brief description of your page & will be displayed in the search engine result. While titles canít tell the whole story, Meta descriptions certainly catch the searcherís eye. Hence, make sure you phrase it in a way that the person searching can just take a quick glance and find the correct page for his search. This description is very vital to drive traffic to your website.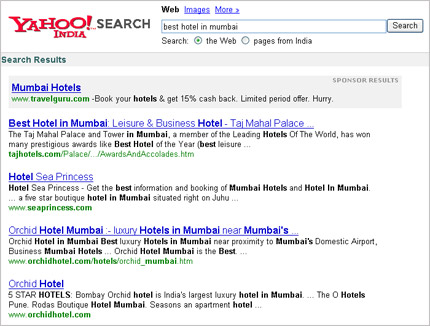 Pay per Click (PPC) Campaigns also fast track your search engine visibility. Search Engine Marketing process is often generically referred to as "pay per click" (PPC) advertising because you only pay when someone clicks on the advertising link, not when your advertisement is displayed. This helps you to cut down on marketing costs. The three main search engines to target are Google, MSN Search and Yahoo. Setting up a pay per click campaign involves researching keywords and writing advertising text. The key to running a successful PPC search marketing campaign is to fully understand the campaign objectives; sales, leads, brand awareness & traffic.
Email Marketing is another lucrative marketing option. If you are not currently conducting any E-mail marketing, you are missing out on a very big opportunity to grab your customerís attention. Email marketing is one of the most cost-effective, efficient marketing tools used to promote a hotel. It can be used to target new customers, communicate with existing customers & promote seasonal specials. Email marketing can help you create a wide-spread, permission-based marketing strategy for your hotel to target leisure customers, business customers, travel agents and corporate clients.
And last but not the least, Behavioral Targeting is quickly gaining popularity in the industry as it has turned out to be a very effective way of reaching customers. Behavioral Targeting is a method used to collect information on an individual's web-browsing behavior, such as the pages they visit & the searches they make, to select which advertisements to display to that individual. This helps them deliver their online advertisements to the users who are most likely to be influenced by them. It follows a personís interests, patterns and behaviors which in turn lead to less campaign wastage. Behavioral Targeting targets the right kind of customers & gains a major chunk of the consumerís interest. It will help you deliver online advertisements to the users who are most likely to be influenced by them.
Therefore, in this critical situation you need to vigorously use some form online marketing to promote your hotel. Without advertising your website nobody will have a clue that it exists. So try out different kinds of online marketing techniques and see what works best for you, as trial and error is the best method for marketing.



















Real Time Payment Processing


Single Window Interface Management


Extensive Distribution Network


Zero Setup Cost


Seamless GDS and IDS connectivity