Now Sell Directly on Facebook
January 22, 2011
Marketing hooks but an online reservation engine secures the guest. There are many marketing mediums out there from print to online that will help you grab the attention of prospective guests; however, very few mediums enable you to close the reservation instantly. In the online realm, a hotel's own website is the main medium to hook guest interest and close sales in real time. Now, advancements in technology has transformed a powerful communication medium into a powerful sales medium 'Facebook'.

Facebook is an extremely popular social networking website that has 500 million + users, most of whom log into their Facebook accounts regularly (many log in daily) in order to socialize with friends, family and colleagues. This sizeable user base meant that by creating a Facebook account for your hotel, you could build an online presence and develop a relationship with potential guests. Now, you can go one-step further i.e. you can not only build your hotel brand online but also close booking directly on Facebook with a payment confirmed reservation. Many merchants and hoteliers are already using Facebook to convert fans into customers such as Le Seven, Chrome Calcutta, Aitken Spence etc.
Here is how, they have combined their marketing efforts with the final sales push in order to close sale directly online via their Facebook page:

The Wall

The Wall is your hotel's homepage on Facebook. This page contains a variety of elements that will enable you to grab the attention of visitors and create a lasting image long after they have left your Facebook page.
For example, the popular Calcutta hotel Chrome's Facebook page uses to types of elements to engage interest and make their brand memorable to visitors. First, they have used their hotel logo as their profile picture. This is beneficial for two reasons – one, a profile picture acts as your hotel identifier and two, thousands of indifferent people with little time to spare, judge your hotel based on the image you chose as your profile picture.
Second, they post hotel updates regularly, which helps to engage the fans and keeps their interest in the hotel alive. They have also added additional sections (look closely at the tab on the top of the page) to engage visitor interest.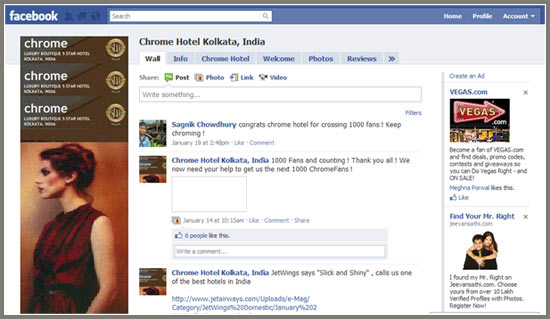 Info

The next page is the Info page. This page contains information about your hotel from your website address to your physical address. By furnishing these details, you make it easier for interested visitors to get in touch with you. This is important as not every guest especially tour groups, corporate groups etc. will be able to or want to book directly.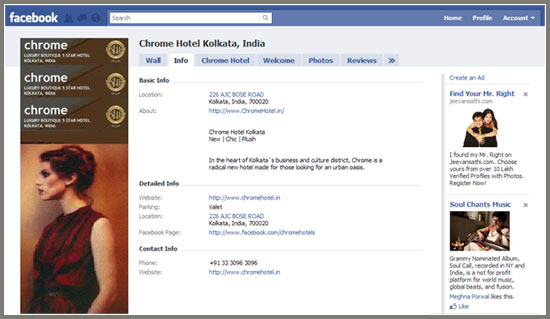 Photo Gallery

A picture speaks a thousand words and photo gallery can eliminate booking anxiety.
Create a Photo Gallery tab and showcase your hotel's offering. By posting photographs of your hotel property and rooms, you can entice potential guests as they get a glimpse of what they will experience if they choose to stay at your hotel.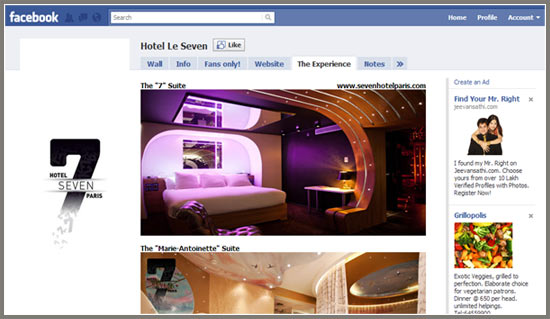 Guest Opinions

Engage the attention of past, present and future guests by giving them a page of their own.
Guests always have something to say and you can make it easier for them to post their opinions by having an exclusive guest page. Here guests can add reviews, post pictures and more. This will also help you garner interest of fans and others looking for hotel suggestions on Facebook.




Hotel Website

A hotel website page not only showcase's your offerings, it also contains a directly link to your hotel website so, interested parties can learn more. Other hotels like Aitken Spence Hotels and Chrome Calcutta have extra tabs with offers and discounts to entice interest.

Finally Yet Importantly, by adding a hotel website page, you can close reservations directly on Facebook.Eliminate multiple steps in the look to book process by adding a direct link to your booking engine page and enable interested individuals to book directly via Facebook.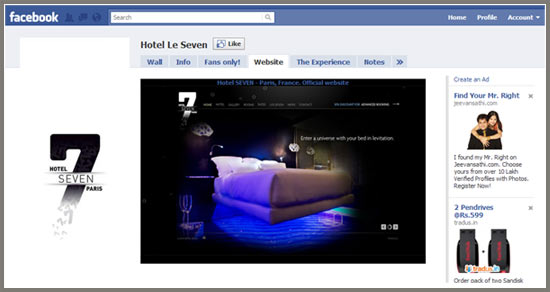 To summarize, by enhancing their Facebook account pages, hotels such as Chrome Calculata and Aitken Spence have not only gathered a more ardent fan following but also closed sales directly via their Facebook accounts, thus, converting fans into guests more effectively. You can achieve higher occupancy levels by taking similar measures. What are you waiting for, get started today!