Experience A Sleeker, Smoother and Smarter ResAvenue Booking Engine

December 22, 2009 - Mumbai.
ResAvenue, the online hospitality solution brings in the New Year with style with its Sleeker, Smoother and Smarter Booking Engine. It has enhanced its engine to offer greater customization and functionality.

What's New in 2010
A Real Time Availability Calendar
An Advanced Search Option
Multiple Image Display Option
Stay Enhancements Feature
Upfront Rate Breakup
An Informative & Useful Status Page
Attractive new look & feel / An Attractive New Look
ResAvenue has restructured its standard booking engine and now boasts a more attractive look and feel and greater functionality. For example, on the reservation page, in addition to selecting your hotel (multiple property hoteliers), no of rooms and arrival and departure dates, there is a new 'Availability Calendar' that will show room availability for the current and upcoming month.

A Real Time Availability Calendar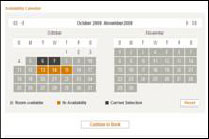 Enhance booking experience with a Real Time Availability Calendar that enables guests to check for room vacancies for their selected dates.
The 'Availability Calendar' is an extremely useful tool that enables guests to check for room availability in real time. Located on the first page of the reservation engine, the availability calendar displays the current and upcoming month calendar and its details. This is a highly beneficial feature as guests can book a different room type if the select room is not available. It also allows them to check for available dates if their travel plans are flexible.
Early bird guests can check for room availability months in advance by adjusting the date, month and year settings. For example, if you only have 1 deluxe room and 1 standard room vacant for 14th February, guests seeking to make a room booking will see the same when they run the mouse over the desired arrival date.
An Advanced Search Option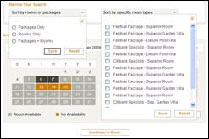 With multiple room types, packages and offers, guests' are often spoilt for choice. The advance search option offers multiple criteria's such as packages only, rooms only and room types + packages that can help guests narrow their search.



Multiple Image Display Option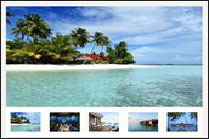 Create a favorable impression of your hotel by displaying multiple images of your hotel property and rooms.
ResAvenue has added a multi-image option wherein you can upload multiple hotel property images and room images on your booking pages. This new addition has dual benefits - you can showcase your property and create an excellent impression even before the guest visits your hotel and you can subtly encourage guests to make reservations for a higher-end room type.
Stay Enhancement Feature
Heighten guest experience with stay enhancements.
ResAvenue has added a stay enhancement feature to the booking engine. This feature enables you to offer your guest's value added services at the time of reservation. In addition to reserving rooms at your hotel, your guest's will be able to book and pay for other services and facilities such as massages, car rentals etc. in advance. For example, guests to hire and pay for a car rental. It will add to the guest's experience even before he arrives at your hotel.
Upfront Rate Breakup
Show the rate break so guests are aware of how much they pay for each service – room accommodation, car hire, massage package etc.
Prevent abandoned bookings that are caused by irate customers who do not understand the difference room cost and the final payable amount by displaying the rate break-up before the payment page. This rate breakup page will give them a complete overview of the cost of stay and any other additions including taxes.
An Informative & Useful Status Page
The new and enhanced status page not only displays booking and payment information. It also has a map option, wherein you can add a direction map to your hotel making it easier for guests to locate your hotel.
To summarize, ResAvenue brings in the New Year with styler with a range of new features and functionalities to enhance the booking engine and thus, enabling you to provide your guests with a superior booking experience.




















Real Time Payment Processing


Single Window Interface Management


Extensive Distribution Network


Zero Setup Cost


Seamless GDS and IDS connectivity