Google Maps: A necessity for your Hotel website
October 20, 2009 - Mumbai.
Have you heard of Kandivili or Kayes? Do you know how to reach either of these destinations? For most of us, the answer is a resounding 'No'. Even if you aced geography in school, chances are that you do not know the name of every city, state and district; never mind how to get there. Many hotels are located in unknown areas, and if your hotel is one of them, Google Maps is definitely meant for you. It not only enables you to provide visitors with clear directions to your hotel but also provide them with an estimate of how long it will take to reach the hotel and orient them visually i.e. distance from your hotel to various places of interest such as monuments and restaurants.
Why should you provide visitors with such information? After price, hotel brand and places of interest are the factors that make visitors choose one hotel over the other. When travelling every traveler has a goal or an itinerary in mind. A business traveler wants the latest in communication technology and a hotel near his work place to reduce travel time. A leisure traveler is more flexible about his hotel choice but a certain want or desire colors his decisions. If he wants to experience the nightlife, he will select a hotel near the local clubs and pubs. If he is more culturally inclined, he will choose a hotel near the museums and theatres. If he wants to just chill out and relax, a beach hotel may be his cup of tea. By using Google Maps to show him how close, your hotel is to said location or place of interest, and you can subtly encourage him to book accommodation at your hotel.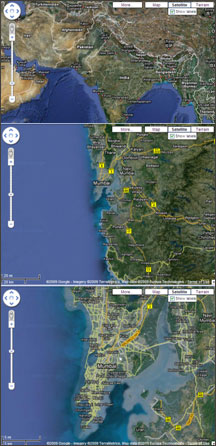 Google Maps is an online interactive map. One of the key benefits of adding this feature is as a location map i.e. you can provide your guests clear driving direction on how to reach your hotel from the nearest airport, train station and/or bus stand. It will also give your visitors access to interactive content that you would otherwise not be able to provide them. For example, it can help orient them, give them a visual idea of far your hotel is located from their place of interest.
The Benefits
Google maps are extremely interactive maps that enable you to


Provide visitors with step-by-step directions to your destination i.e. create driving directions.

Display potential and uncongested travel routes to the different business districts including an estimate of the time required to reach it and the distance between the two locations. This will help you gain a larger segment of the business traveler market.

If your business is not as close to the action, include additional content to your location map such as the surrounding region nearby beaches, amusement parks, local restaurants etc.
Click here to learn more about this amazing facility.
To summarize, Google Maps are a visual representation of your hotels' location that can also be used to display nearby places of interest. It is a powerful way to get visitors to stay at your destination and hotel.



















Real Time Payment Processing


Single Window Interface Management


Extensive Distribution Network


Zero Setup Cost


Seamless GDS and IDS connectivity