One-Size Doesn't Fit All: Generate Custom Invoices Easily
September 18, 2009 - Mumbai.
One-size doesn't fit all! When you buy a car, you don't just walk into a dealership and buy whatever is displayed in the window. You select a brand, a color and add-on features such as power windows. You make sure that your car suits both your wants and your budget. To a guest, your hotel is like that car; the standard package may not suit his requirements and he will want to customize the package. For example, a guest traveling with his wife and kids may want a to book a wildlife safari along with the room. A business traveler who frequently stays at your hotel may demand a discount and a tour operator bringing in a bulk booking may want to negotiate a special price. In all of these situations, making a direct booking on your hotel website is not possible as the package and price is tailored to the guest. A custom package means a custom invoice. However, this should not mean, that you have to go back to the old fashion paper-based invoices that have to be couriered.
ResAvenue, your online hospitality solution provider offers you more than just an online reservation engine. It is offers you a comprehensive range of online tools including a customizable invoicing feature. All you need to do is log into your ResAvenue M.A.R.S. account and click on Advance Administration in the navigation bar. Click on the Invoice option in the dropdown to open up the following page:

When you click on the link, the customizable invoicing format will open where you can add your negotiated or discounted rate, a short description of room types and/or the services included with this package and the terms and conditions applicable.
Remember to add the guest's email id, so when you click on submit, an email will be fired directly to the guest from the ResAvenue system.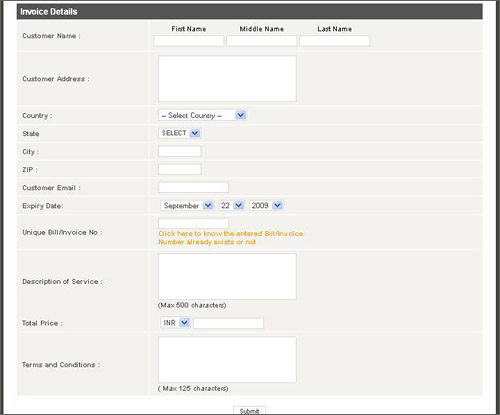 ResAvenue's Invoicing feature is customizable and flexible. It will simplify your work process and ensure that all your reservations are confirmed with a payment, thus reducing the chances of no-shows.



















Real Time Payment Processing


Single Window Interface Management


Extensive Distribution Network


Zero Setup Cost


Seamless GDS and IDS connectivity