Lakshmi Vilas Bank now offers an 'Online Shopping' Facility to its customers
November 03, 2008 - Mumbai.
Online Shopping is no longer a trend; it is a matter of convenience. Online research indicates that more and more people are using the internet to purchase goods and services.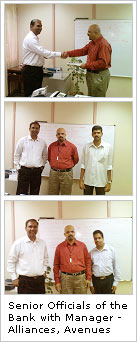 Lakshmi Vilas Bank aims to make it easier for its customers to transact online by offering them easy access to over 5000 online merchants. To further this goal, Lakshmi Vilas Bank has tied-up with Avenues' South-Asia's largest integrated eCommerce company.
Avenues has a range of solutions in different industry verticals and thousands of merchants using these solutions. By tying up with Avenues, Lakshmi Vilas Bank has ensured that it provides its customers with innovative and quality services. This tie-up also enables Lakshmi Vilas Bank's customers to purchase goods and services at any of Avenues' merchants 5000 plus websites. Avenues' merchants encompass a wide variety of fields from apparel and artifacts to hotels and events.
Through this tie-up, Avenues will add yet another payment option to its direct debit engine. It will consolidate Avenues position in the minds of its merchants as the payment solution with the widest range of payment options. Currently, Avenues has 6 credit cards, debit cards from 11 Indian banks, direct debits from 22 Indian banks, cash cards and mobile payments. Avenues is also in the progress of adding more payment options to its extensive list.
About Lakshmi Vilas Bank Limited
On 3rd November 1926, Lakshmi Vilas Bank Limited was incorporated in Karur. It was established to cater to the financial needs of varied customer segments. It provides its customers with services such as retail banking, corporate banking and bancassurance.
Lakshmi Vilas Bank has a strong and wide base in the state of Tamil Nadu as well as a presence in other parts of India. It provides quality services to its customers from its network of 246 branches, 5 satellite branches & 5 extension counters, spread over 14 states and the union territory of Pondicherry.
About Avenues
Avenues is a profitable, debt-free company and currently services thousands of eMerchants worldwide through its solutions
www.CCAvenue.com
,
www.ResAvenue.com
,
www.EventAvenue.com
,
www.MembersAvenue.com
,
www.TrustAvenue.com
. It is the largest integrated eCommerce solutions provider in South Asia. Avenues has shown revenue growth and profit growth consistently, year on year. Avenues is incorporated in India, and has offices in Singapore, Hong Kong, and USA. The Avenues support and development center is based in Mumbai, India. The total strength of the Avenues team is currently 120 personnel, spanning across all disciplines. For more information, log onto:
www.Avenues.info



















Real Time Payment Processing


Single Window Interface Management


Extensive Distribution Network


Zero Setup Cost


Seamless GDS and IDS connectivity