Avenues' celebrates 7 successful years
September 01, 2008 - Mumbai.
On 1st September 2008, Avenues South-Asia's largest integrated ecommerce company celebrated 7 successful years. In the past 7 years, Avenues has grown from a small 10-member organization to South-Asia's largest eCommerce solution provider that powers 1000s of merchants with a real time, multi-currency, multi-payment processing services.
Mr.Vishwas Patel
, Founder-CEO, Avenues cutting the cake at the 7th Anniversary CelebrationThe Avenues story began when Mr. Vishwas Patel, Founder-CEO, Avenues was looking for a simple cost effective real time payment gateway for his online portal 'seasonindia.com'. During his search, he came to the realization that there were no cost effective solutions available for the Indian entrepreneur. It is this realization that became the cornerstone of Avenues.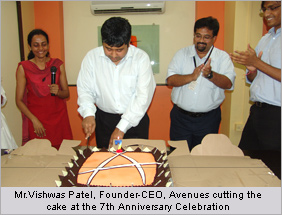 In 2001,
Mr. Vishwas Patel
launched 'CCAvenue' an eCommerce solution that is user friendly, cost effective and one that understands the unique requirements of the eCommerce merchants. CCAvenue uses path breaking proprietary technology that integrates transaction-processing, advance shopping cart, auction payment collection facility, fraud control, financial reporting and order tracking into one solution 'CCAvenue'. The solution is also backed with multiple payment options – credit cards, debit cards, cash cards, mobile payments and India's largest direct debit engine making it possible for merchants to accept payments on their website from the widest target audience. The flexibility of the CCAvenue solution has transformed this 7-year-old solution into South-Asia's No 1 payment gateway.
Since achieving its primary goal, Avenues has expanded its operations. It now has 3 business units catering to different industry verticals – General eMerchants, Travel Industry and Community. The Avenues Commercial Services Division has 2 brands under its umbrella CCAvenue for general eCommerce Processing and TrustAvenue for Online Risk Management Services. Avenues Travel Industry Services Division has ResAvenue for Online Hotel Reservations through the Hotel website and HotelsAvenue for Online Travel Inventory Feed and lastly, Avenues Community Related Services Division has EventAvenue for Online Event Management Services and MembersAvenue for Online Member Management Services. Today, Avenues is a multi-product company that operates on a global scale. It has offices in India, USA, Singapore and China. The Avenues team has also grown to 125 persons spanning across all offices.



















Real Time Payment Processing


Single Window Interface Management


Extensive Distribution Network


Zero Setup Cost


Seamless GDS and IDS connectivity